About European Kitchen Group
European Kitchens Group were established in 2009 with an aim to design, import and install bespoke European kitchen designs in Melbourne, Australia.
We are proud to be Australia's exclusive providers of Cesar and Rempp kitchens. Cesar and Rempp are luxury kitchen design companies operating in Germany and Italy, and have the look, feel and quality of designer European kitchens.
European Kitchen Group use hiqh quality, durable materials in unique configurations for the ultimate in style and functionality. We work with you to design a made-to-order kitchen befitting your unique lifestyle. Our servicepeople have decades of experience in kitchen design and take care to create quality, personalised kitchens for any home. At European Kitchen Group, we combine hard-wearing, authentic materials with timeless designs for our clients' made-to-order kitchens.
Our dedicated team are exact in every detail. Using the latest in kitchen design software, we are able to tailor a unique European Kitchen to your lifestyle. Once designed locally, your European kitchen is manufactured and assembled in our facilities in Europe before we import it into the country fully constructed.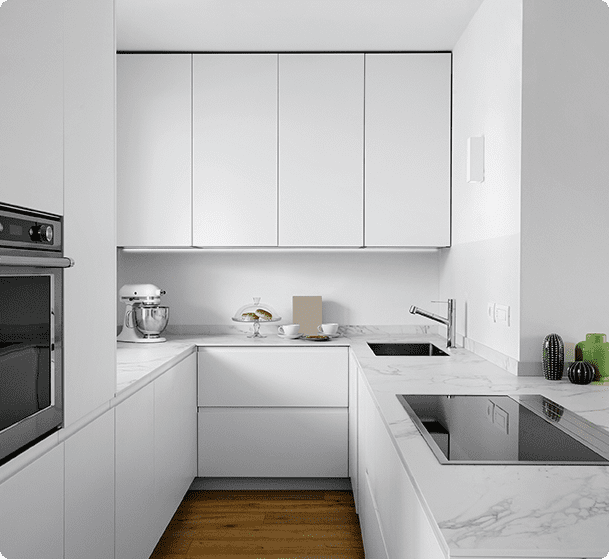 Simplicity
At European Kitchen Group, we believe in the hybridity of form and function, in which both work together to create a truly harmonious space. Under our systems-oriented approach, we use hard-wearing, raw materials to create simple, easy-to-use spaces.
Belonging
Our kitchens are designed to complement the already existing architecture, highlighting its own features, angles and light. European kitchens, such as those by Rempp and Cesar, are designed to work in harmony with the rest of the home, adding to its feel, flow and style.
Value
High quality materials, such as marble and wood, are the perfect balance of practicality and beauty. Hard-wearing, these materials are made to last, retaining value for years to come.
Timelessness
Our cabinetry is made to last, and so our styles should be too. When you commission a European Kitchen, whether classic or cutting edge, our design team will work with you to design a kitchen that will stand the test of time.
For more information on European Kitchens Group or to see some of our most popular designs, visit our South Melbourne showroom today.