Since opening in 1969, Italy's Cesar has believed in kitchens that reflect the lives, the tastes and the needs of their users.
A Cesar kitchen is a place where you can enjoy the togetherness and warmth of your home. For a quick breakfast, large family celebration, or intimate couple's dinner, Cesar spaces transform into what you need when you need them. Coupling versatile storage solutions and workspaces with Italian style, Cesar offer elegant, simple, and practical kitchens.
For over fifty years, Cesar kitchens have been designed with one word in mind: home; where family, friends, food and comfort come together.
Today, Cesar embrace innovative materials and cutting edge techniques to create comfortable spaces. Cesar's modular kitchens embrace cutting-edge technologies, modern appliances and traditional style for the utmost in form and function.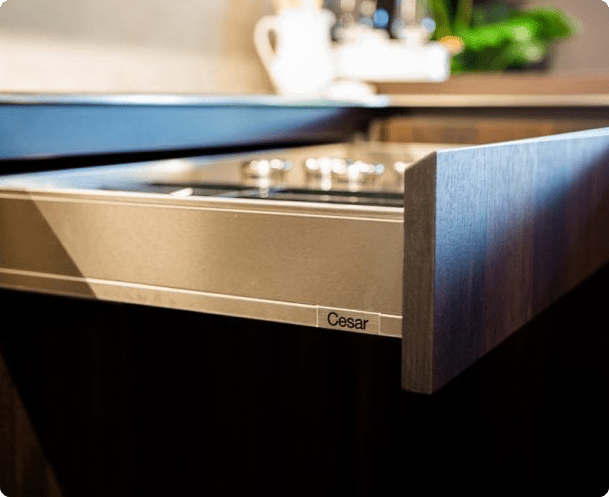 Working with our designers at EKG, our clients can completely customise their dream
Cesar
kitchen. Using 3D kitchen design software, we are able to fine tune every detail of your new kitchen before manufacture begins, ensuring you are 100% satisfied from the very beginning.
We work with you to create your perfect kitchen. With the wide scope of kitchen accessories and technology available today, EKG work with clients to ensure everything has a place in their Cesar kitchen. Clients can customise every aspect of their future space, from cupboard volume, worktops and handles, to sinks, lights and hobs. No matter what they choose, our Cesar clients can rest assured, their kitchen will be timeless, effective and truly a part of their home.
Cesar offer minimalist furniture with maximum customisation. For a full range of styles and products, visit us at our South Melbourne showroom today. Our showroom is open six days a week for you to be inspired by our Cesar display kitchens, or to talk to one of our friendly staff.
Cesar have been manufacturing their made-to-order kitchens in Italy since the late 1960s. Their modular, versatile fitted kitchens are completely constructed overseas before we import and install them, in full, in your home.
European Kitchen Group is Australia's exclusive importer of Cesar's internationally-renowned Italian kitchens. When you choose a Cesar kitchen from European Kitchen Group, you are commissioning the genuine article — 100% crafted, manufactured and assembled in Pramaggiore, Italy. With timeless style and modern technology, your Cesar kitchen will be the centre of your home now and for years to come.