---
Steam Ovens, The In's & Out's
Blog Post By Jenny Johnson
I don't own a steam oven and don't really know much about them so I thought it best to borrow this article from Chris Barnes ozmisterbarnes, published by Choice Sept 2017.  
Please note; I have added a touch of my own content and managed to learn quite a bit along the way, thanks, Chris.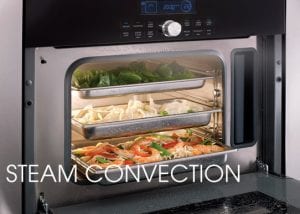 Don't get all steamed up!!!
Whether you're considering replacing your oven with a combination steam option, or like the thought of a dedicated steamer, there are plenty of choices out there. But don't get too steamed up over the decision: we've condensed what you need to know about these ovens into bite-sized chunks.
How much can I expect to pay for a steam oven?
Steam ovens can vary in price from $2000 to well over $10,000
---
Which is your type?
There are three types of steam oven:
The standalone steam oven – which only steams
The 'true' combination steam oven has typical multifunctional baking, combination steam/convection modes, and steam only settings
A typical multifunction electric oven with an added moisture function. These inject bursts of steam into the oven during normal baking at appropriate cooking phases to help keep in moisture.
Steam only
Standalone steam ovens can steam large quantities of food over multiple shelves without fusing flavours. For example, you can steam fish, veggies, rice, and pudding at the same time, and pretty quickly too. But you can't brown food, which limits the versatility of these ovens.
Combination steam and convection ovens
These are the latest designs to infiltrate the showroom. As their name suggests they combine the benefits of steam cooking with all the necessities of a multifunction convection oven. A 'true' combination steam oven has typical multifunctional baking, combination steam/convection, and steam-only settings. These tend to have water tanks (very few can be plumbed in) and some have condensation collection reservoirs.
A convection oven with a burst of steam
Often, the cheaper option is a typical multifunction electric oven with an added moisture function. Some have a water tank and a drain and tube for emptying condensation water, while others draw water through a siphoning tube that you place in a glass of water. These don't have steam-only settings, but simply inject bursts of steam into the oven during normal baking at appropriate cooking phases to help retain moisture.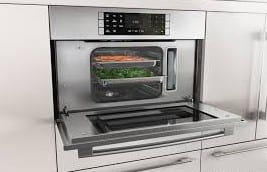 ---
What size do I need?
Options are compact (about 45cm high by 60cm wide), or full size (about 60 x 60cm). Selection will depend on your available space, and how much steam and combi-steam cooking you do. Multi-shelf cooking in some models isn't recommended – reducing versatility. Check such recommendations before buying.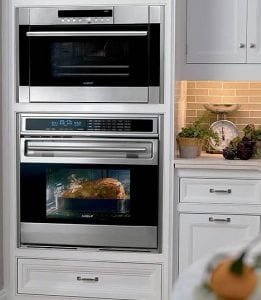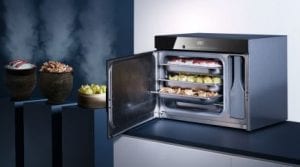 ---
What to check in store
Water tank: A larger water tank means less interruption while steam cooking. One that you can access without opening the oven door prevents heat and steam loss – and minimises the risk of scalds from escaping steam. Make sure it's easy to fill and replace. The steaming system will need to be flushed through and de-scaled periodically, depending on how often you use it and water hardness.
Condensation: Some have condensation tanks that need to be removed, emptied and replaced, others you drain by inserting a tube into the drain hole while water flows into a container you hold below it, and another type need the oven cavity sponged out after each use from an indented collection cavity in the base. On the other hand, some have no condensation tank or collection cavity – you just wipe dry the interior after each use. But we've found this may not be an ideal design, as moisture still seems to remain within the system, which isn't ideal for baking some dishes, including meringues. There are also plumbed-in options, but these require a fair bit of maintenance including de-scaling and regularly flushing the lines to prevent mould growth, and they're more expensive to buy and install.
Comprehensive instructions and cooking guidelines: There's a lot to learn about combination-steam cooking, and good guidelines can help a great deal. It can only take 30 seconds to ruin a steamed dish, so accurate guidelines mean significantly less trial and error and more fun in the kitchen.
Controls: Clear and intuitive controls and labelling are even more important with combi-ovens due to all the extra options available. It's worth trying them out in a store, where possible, to get a better idea of whether they're easy to use and understand
Cooking demonstrations: Most of the major retailers offer free in-store cooking demonstrations on using a steam oven that can help you get the most out of your new kitchen appliance. Many of the manufacturers also offer cooking classes included with the purchase of your oven.  If you want to get the most out of your new appliance, I would certainly find the time to take these classes.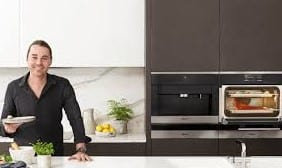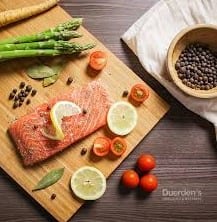 ---
Do you need a steam oven?
For most cooks, a combination steam oven shouldn't replace a conventional electric oven, because you can get better cooking results in a standard oven, or one with the added moisture settings, at a much lower cost.
But if you're frequently steaming foods – particularly in larger volumes or multiple dishes such as rice, fish, veggies and/or puddings – a combi-steam oven may be a useful choice. A standalone steam oven to complement your existing electric multifunction oven is also worth considering.
The downside of any steam oven is the high level of maintenance needed to keep the water/steam system free of bacteria and mould. For less frequent steaming, the stovetop steamer or microwave will get the job done without leaving a hole in your hip pocket – or eating up too much of your free time.