Kitchen storage, is there ever enough? At European Kitchen Group, we work with you to find out how you and your family use your kitchen. From here we suggest ways to get the most out of the space you have available. Keeping your family's needs in mind, here are some kitchen storage ideas to maximise the interior and exterior space within your kitchen.
---
Breakfast Stations
Breakfast is the most important meal of the day and requires serious consideration. Factoring in storage for cereals, jams, teas and coffee is tough enough, but if you don't want the toaster and coffee machine cluttering your counter space, then you'll need to work them into your storage plan, too.
Snack Station
Having a hungry family after school, work or sporting activities under your feet while you're trying to get dinner on the table. Keep all their snacks in the "snack station", storing them in wire baskets in either open shelving or behind closed cabinet doors. This way, they have their snacks outside your space, allowing them to help themselves without disturbing the cook!
---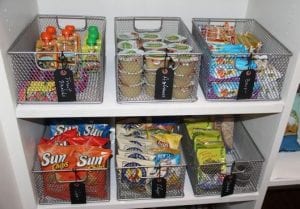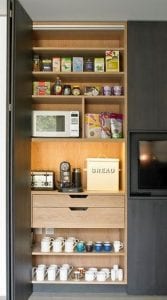 ---
Wine Storage
Are you looking for somewhere to tuck away a few sneaky bottles of wine? Both of these wine rack ideas are great ways to incorporate wine storage into your kitchen whilst showing off your collection!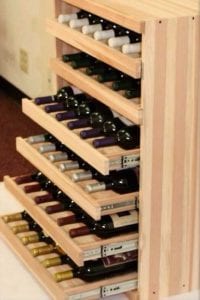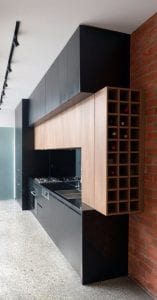 ---
Drawer & Cupboard Organisers
Help you get the most space out of your drawers. There are many alternatives available to find an organising solution best for you. Make sure you order these at the same time as ordering your kitchen!
---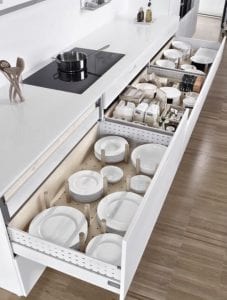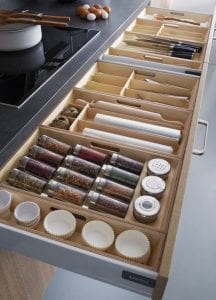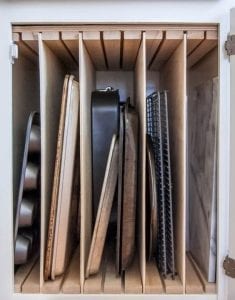 ---
Drawers and Pull Out's 
Are great for organising your pots, pants and pantry too. Nothing gets lost as everything is visible every time you open the drawer.
---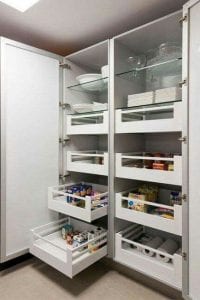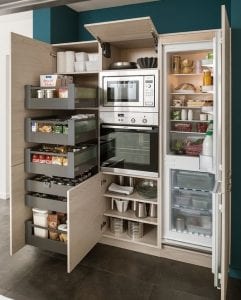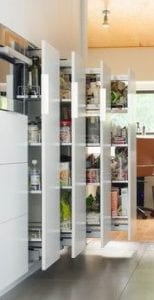 ---
Appliance Cupboard
It just makes so much sense! You can have everything all in one place, it frees up the counter space, and all you need to do is close the door and it is all tidy.
---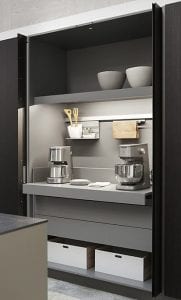 ---